BACKSTAGE 
Before the opening ceremony first Wrestlingmale live show
WRESTLINGMALE Live Shows & Grabby 2022
AWARDS  ACTEURS TEAM WRESTLINGMALE – Grabbys awards Europe 2022 
RUSLAN ANGELO – VIKTOR ROM – BASTIAN KARIM
NOMINATIONS  WRESTLINGMALE – Grabbys awards Europe 2022 
Best Website – Best Original Web content : WRESTLINGMALE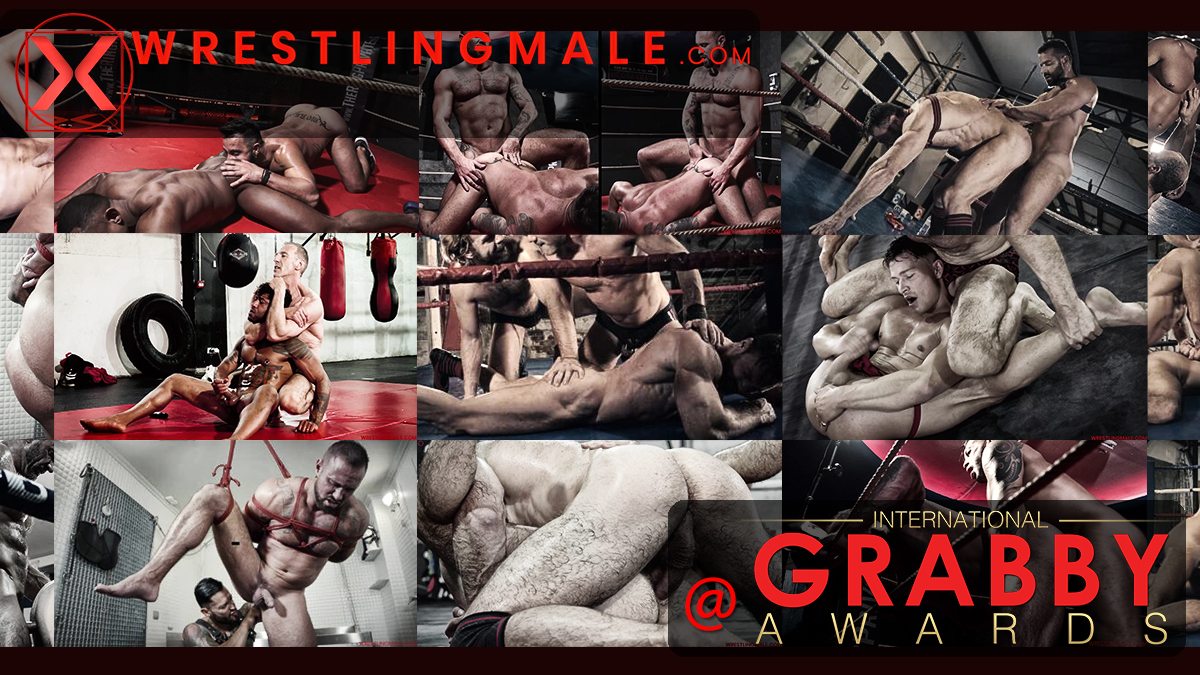 Best Producer : ETIENNE ERIK 
Best Fetish Porn Star – Best Daddy – Best Bottom – Most Accomplished International Pornstar : ETIENNE ERIK 
Best Feature-Length Movie :
VIKTOR SECRET – Final Shower (Viktor Rom – Aaron Mark – Joe Gillis – Santi Noguera)
Best Couple :
Etienne Erik & D.Dan (XTREME SHOT 1 Paris)
 Etienne Erik & Massimo Arad (XTREME SHOT 16 Paris)
Etienne Erik – Alexis Clark (XTREME SHOT Madrid Deal 1 for Mikey)
WRESTLINGMALE & GRABBY AWARDS EUROPE 2022
Grâce à votre soutien, Wrestlingmale, moi-même Etienne Erik et tous nos acteurs avons à nouveau obtenu un nombre incroyable de nominations aux Grabby awards Europe 2022.
Bravo à nos 3 acteurs phare de la team Wrestlingmale qui ont remporté un award : Viktor Rom (Best Pornstar of the year) – Ruslan Angelo (Best Bottom) et Bastian Karim (Best Twink)
Cette année , le process des Grabby awards Europe 2022 s'est aussi finalisé par un exceptionnel événement et cérémonie du 22 au 24 avril 2022 à Torremolinos – Espagne : un aperçu filmé par leur partenaire TV Canal You est disponible sur youtube ICI
Nous avons pu organiser à cette occasion trois exceptionnels inédits live shows avec 10 modèles : un premier lors de la cérémonie d'ouverture à l'hôtel Ritual (performance wrestling et bondage sur mat), le second durant l'officielle night party au Club Centuryon (sex & bondage wrestling show sur ring) et enfin sur le roof top du même hôtel Ritual (sex & bondage wrestling show sur mat).
Parmi nos performers : quatre new comers dont Manuel Scalco, Justin Jett, Paco Rabo et Joe Casio ainsi que 6 membres de la team Wrestlingmale dont Viktor Rom, Rico Vega, Babylon Prince, John Rodriguez, Aaron Mark et D.Dan… Sans compter mes propres multiples « interférences » en tant que show man-arbitre- boss-voyeur ahahah!
L'art du Shibari (bondage) a été créé et réalisé par une main de maître : Niko_Kimbaku (IG) – NikoKinbaku (Twitter)
Plusieurs cameramen ont été à l'oeuvre dont le talentueux @Thedarksideof_pan (Twitter) – @The_dark_side_of_pan (IG) qui collabore avec Wrestlingmale depuis la création de la série Viktor Secret.
Une ambiance et une énergie que je n'oublierai jamais! Nous éditerons pour vous prochainement ces shows exclusifs sur le site!
Merci encore pour votre nouveau support et enthousiasme au cours du plus grand événement récompensant l'industrie du porno en Europe!
Bravo bien sûr à toute la team Wrestlingmale et des Grabby! Rendez-vous l'année prochaine pour toujours plus de fun!
Etienne Erik
Producteur et Directeur Wrestlingmale
AWARDS ACTEURS DE LA TEAM – GRABBY AWARDS EUROPE 2022
Best Bottom award winner : Ruslan Angelo 
Best Twink award winner : Bastian Karim 
Porn Star of the Year award winner : Viktor Rom
NOMINES WRESTLINGMALE ET ACTEURS DE LA TEAM – GRABBY AWARDS EUROPE 2022
Best Website :  Wrestlingmale.com
Best Producer : Etienne Erik
Best Web Original Content :  Wrestlingmale.com
Best Feature-Length movie : 
– VIKTOR SECRET – Final Shower (Viktor Rom – Santi Noguera – Aaron Mark – Joe Gillis)
Best Couple :
– Etienne Erik & D.Dan (XTREME SHOT 1 Paris)
– Etienne Erik & Massimo Arad (XTREME SHOT 16 Paris)
– Alexis Clark & Etienne Erik ( XTREME SHOT Madrid Deal 1 for Mikey)
Best Fetish Porn Star : Etienne Erik / Viktor Rom / Ruslan Angelo / Bastian Karim / Martin Mazza
Best Daddy : Etienne Erik / Viktor Rom / D.Dan 
Best Top : Viktor Rom / D.Dan / Gabriel Phoenix
Best Bottom : Etienne Erik / Ruslan Angelo / Cole Keller / Bastian Karim / Santi Noguera / Jota Palma (bientôt sur Wrestlingmale)
Best Versatile Performer : Ruslan Angelo / Gabriel Phoenix / Babylon Prince
Best Jock : Ruslan Angelo / Viktor Rom / Gabriel Phoenix / Babylon Prince 
Best Twink : Bastian Karim 
Porn Star of the Year : Viktor Rom / Bastian Karim / Ruslan Angelo / Gabriel Phoenix / Cole Keller / Santi Noguera / Marco Napoli
Most Accomplished International Pornstar : Etienne Erik / Viktor Rom / Ruslan Angelo / Bastian Karim / Gabriel Phoenix / Manuel Skye / Martin Mazza

Newcomer of the Year : D.Dan / Babylon Prince 
Fan Site Performer of the Year : D.Dan
Best Cam Performer  : open (no suggestion)
Best Media Supporting European Gay porn : Gay Barcelona Porn / Purelygayporn

——————————————————————————————————————–
Photographie principale : Etienne présente la catégorie Best Jock Grabby 2022
Photographies gauche : Shots by @Thedarksideof_pan (Twitter) – @The_dark_side_of_pan (IG) – Shibari by Niko_Kimbaku (IG) – NikoKinbaku (Twitter)
Videos : différents crédits