BACKSTAGE 
Before the opening ceremony first Wrestlingmale live show
WRESTLINGMALE Live Shows & Grabby 2022
AWARDS  TEAM WRESTLINGMALE ACTORS – Grabbys awards Europe 2022 
RUSLAN ANGELO – VIKTOR ROM – BASTIAN KARIM
NOMINATIONS  WRESTLINGMALE – Grabbys awards Europe 2022 
Best Website – Best Original Web content : WRESTLINGMALE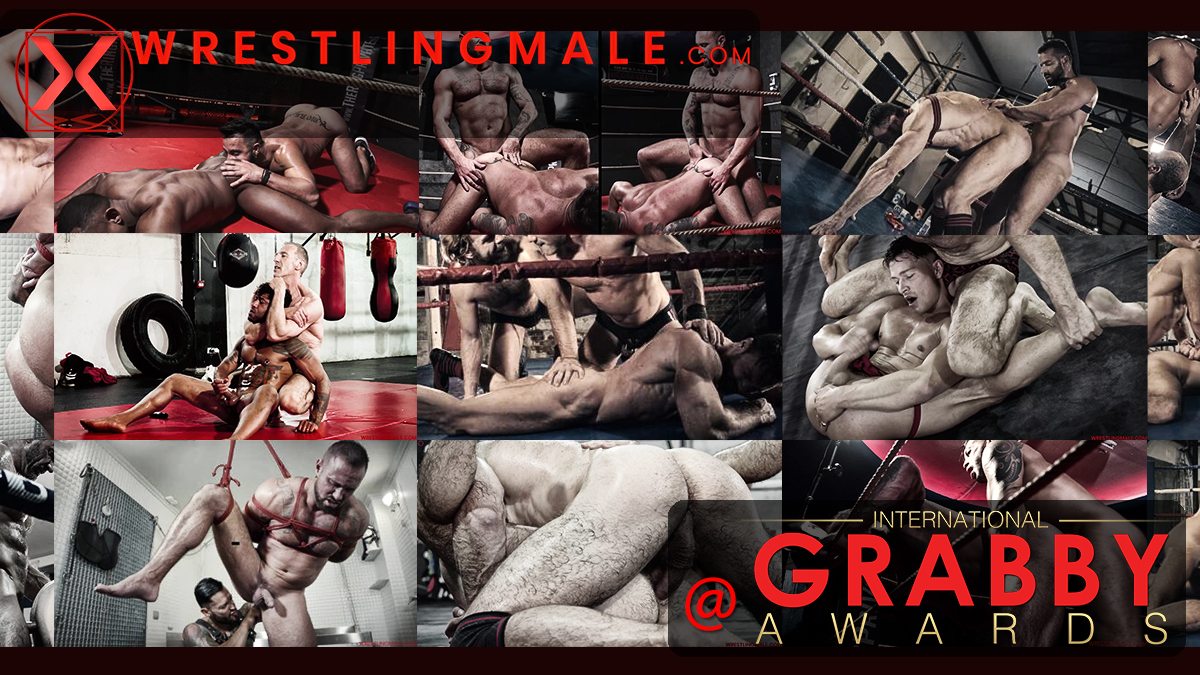 Best Producer : ETIENNE ERIK 
Best Fetish Porn Star – Best Daddy – Best Bottom – Most Accomplished International Pornstar : ETIENNE ERIK 
Best Feature-Length Movie :
VIKTOR SECRET – Final Shower (Viktor Rom – Aaron Mark – Joe Gillis – Santi Noguera)
Best Couple :
Etienne Erik & D.Dan (XTREME SHOT 1 Paris)
 Etienne Erik & Massimo Arad (XTREME SHOT 16 Paris)
Etienne Erik – Alexis Clark (XTREME SHOT Madrid Deal 1 for Mikey)
WRESTLINGMALE & GRABBY AWARDS EUROPE 2022
Thanks to your support, Wrestlingmale, myself Etienne Erik and all our actors have once again received an incredible number of nominations at the Grabby awards Europe 2022.
Congratulations to our 3 main actors of the Wrestlingmale team who won an award : Viktor Rom (Best Pornstar of the year) – Ruslan Angelo (Best Bottom) and Bastian Karim (Best Twink)
This year, the process of Grabby awards Europe 2022 was also finalized by an exceptional event and ceremony from 22 to 24 April 2022 in Torremolinos – Spain : see the shooting from their partner TV Canal You HERE
We were able to organize on this occasion three live shows with 10 models : the first one during the opening ceremony at the Ritual hotel (performance OF wrestling 1 bondage on mat), the second one during the official night party at the Centuryon Club (sex & bondage wrestling show in a ring) and finally, on the roof top of the Ritual hotel (sex & bondage wrestling show on mat).
Among our performers: four new comers including Manuel Scalco, Justin Jett, Paco Rabo and Joe Casio and 6 members of the Wrestlingmale team including Viktor Rom, Rico Vega, Babylon Prince, John Rodriguez, Aaron Mark and D.Dan… Not to mention my own multiple "interferences" as a show man- referee- boss- viewer ahahah!
The art of Shibari (bondage) was created and performed by a master hand : Niko_Kimbaku (IG) – NikoKinbaku (Twitter)
2 cameramen were at work including the talented @Thedarksideof_pan (Twitter) – @The_dark_side_of_pan (IG) who has been collaborating with Wrestlingmale since the creation of the Viktor Secret series.
We all enjoyed so much such an atmosphere and energy that I will never forget! We will soon publish for you these exclusive shows on the website!
Thank you again for your support and enthusiasm during the biggest porn industry event in Europe!
Congratulations to the whole Wrestlingmale and Grabby team! See you next year for even more fun!
Etienne Erik
Translated with www.DeepL.com/Translator (free version)
Wrestlingmale Producer & Director
WRESTLINGMALE TEAM ACTORS AWARDS  – GRABBY AWARDS EUROPE 2022
Best Bottom award winner : Ruslan Angelo 
Best Twink award winner : Bastian Karim 
Porn Star of the Year award winner : Viktor Rom
WRESTLINGMALE & TEAM  ACTORS NOMINEES – GRABBY AWARDS EUROPE 2022
Best Website :  Wrestlingmale.com
Best Producer : Etienne Erik
Best Web Original Content :  Wrestlingmale.com
Best Feature-Length movie : 
– VIKTOR SECRET – Final Shower (Viktor Rom – Santi Noguera – Aaron Mark – Joe Gillis)
Best Couple :
– Etienne Erik & D.Dan (XTREME SHOT 1 Paris)
– Etienne Erik & Massimo Arad (XTREME SHOT 16 Paris)
– Alexis Clark & Etienne Erik ( XTREME SHOT Madrid Deal 1 for Mikey)
Best Fetish Porn Star : Etienne Erik / Viktor Rom / Ruslan Angelo / Bastian Karim / Martin Mazza
Best Daddy : Etienne Erik / Viktor Rom / D.Dan 
Best Top : Viktor Rom / D.Dan / Gabriel Phoenix
Best Bottom : Etienne Erik / Ruslan Angelo / Cole Keller / Bastian Karim / Santi Noguera / Jota Palma (bientôt sur Wrestlingmale)
Best Versatile Performer : Ruslan Angelo / Gabriel Phoenix / Babylon Prince
Best Jock : Ruslan Angelo / Viktor Rom / Gabriel Phoenix / Babylon Prince 
Best Twink : Bastian Karim 
Porn Star of the Year : Viktor Rom / Bastian Karim / Ruslan Angelo / Gabriel Phoenix / Cole Keller / Santi Noguera / Marco Napoli
Most Accomplished International Pornstar : Etienne Erik / Viktor Rom / Ruslan Angelo / Bastian Karim / Gabriel Phoenix / Manuel Skye / Martin Mazza

Newcomer of the Year : D.Dan / Babylon Prince 
Fan Site Performer of the Year : D.Dan
Best Cam Performer  : open (no suggestion)
Best Media Supporting European Gay porn : Gay Barcelona Porn / Purelygayporn

——————————————————————————————————————–
Main photography: Etienne presents the Best Jock category award Grabby 2022
Photographies on the left : Shots by @Thedarksideof_pan (Twitter) – @The_dark_side_of_pan (IG) – Shibari by Niko_Kimbaku (IG) – NikoKinbaku (Twitter)
Videos : differents credits